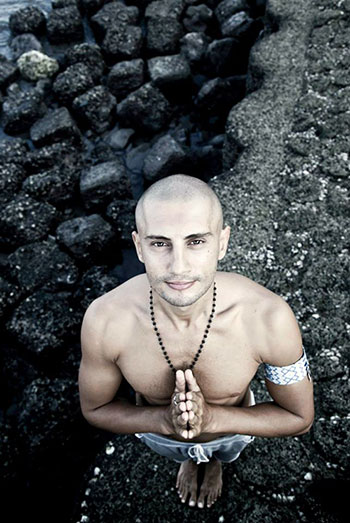 Adam Mahmoud is an international Meditation and Yoga teacher as well as a professional fire performance artist. Over the past 14 years, he has traveled around the world studying with experienced masters, healers, and Yoga & meditation teachers from Ibiza, Bali, Australia, LA and India.

2009 to 2012 : Adam received over 500 hours of mentorship with Ibiza based teacher James DeMaria in Hatha Tantra and Restorative Yoga.

In 2012 on Adams second trip to India he again a 500-hour teacher training with Vijay Amar in Ashtanga Vinyasa and Hatha Yoga. After his training, he stayed to work with Vijay assisting him with daily classes gaining even more experience.

In 2013-2014 while Adam was managing a Yoga studio in Bali he met and studied with legendary Balinese healer and Meditation teacher Pak Merta Ada.

He also attended several intensives with world-renowned teachers such as Noah Maze, Tara Judel, Octavio Salvador.

His technique is based on traditional Balinese, Indian and Chinese wisdom traditions. He has educated and taught thousands of people around the world to understand their body, mind and true divine nature. Adam is driven by his life's mission to spread more love and kindness to the world. He is currently based in Montreal, Canada where he leads classes, workshops and retreats as well as overseas. He has a unique, playful and Holistic style to Yoga, which restores body and mind to balance for lasting inner peace and joy.

Practice energizing and creative Yang-style Yoga in the morning and nourish your body, mind and spirit with soothing Yin practice in the late afternoon. Each morning practice will help you strengthen and deepen your Asana practice followed by meditation. Our Yoga classes are infused with manydifferent traditions such as functional movements, Qi Gong and martial arts. You will be introduced to advanced postures in workshop style and breathing techniques.The Yin/Restorative practice will be designed to tap into your inner emotions through imageries and affirmations. The practice helps you to free yourself from everyday stress. Release what is stuck in your heart and let go of your daily blockages you feel inside. And of course, prepare yourself for a good night's sleep. The day finishes with evening meditation and reflection. We believe reflection is a great source of self-growth. Writing in your journal allows you to remember your experience and transformation during the retreat. It becomes a gift for you as a memory when you return home.If attending a Yoga retreat is one of your dreams, this is the time to dive into this amazing experience. Save your spot today!