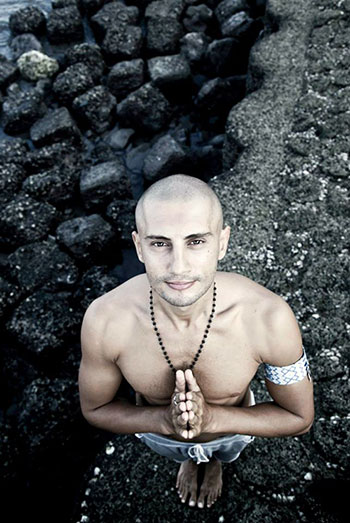 Adam is a highly skilled, world-renowned Meditation Educator, Holistic Yoga teacher and Life Coach. With 16+ years of professional experience as a teacher, educator and facilitator around the world, his audience & students reach far & wide across the globe, both online and in-person. In the digital space, he's featured on the highly popular Breethe meditation app where his teachings reach millions of people, has appeared on national television (the hit TV show Britain's Got Talent) and has written articles that have become widely recognized on health, wellbeing, and meditation. His in-person presence had him leading North America's largest Yoga & Meditation event for 2 years running, the Lole White Tour, with 8000 participants in attendance, Yoga Teacher Trainings and Meditation Teacher Trainings, not to mention regular seminars, workshops, coaching and classes.
‍
Adam also enjoyed 8 years as a performance artist and event planner. He traveled the world with his own production team and was based in Ibiza Spain seasonally, performing in front of tens of thousands of people, celebrities, members of the Royal Family, and corporate events. He has collaborated with Warner Bros Studio & Cirque Du Soleil. Throughout this constant pressure and highly intense performance work, Adam gained valuable insights into accessing peak states for performance, rehabilitation recovery techniques for burnout, stress, and external pressures.

He is also a Qi Gong Teacher, Certified Basketball Coach, Breathwork Facilitator, Deep Tissue Massage Therapist, Personal Trainer, Rescue Scuba Diver, and Holistic Movement Teacher.

Practice energizing and creative Yang-style Yoga in the morning and nourish your body, mind and spirit with soothing Yin practice in the late afternoon. Each morning practice will help you strengthen and deepen your Asana practice followed by meditation. Our Yoga classes are infused with manydifferent traditions such as functional movements, Qi Gong and martial arts. You will be introduced to advanced postures in workshop style and breathing techniques.The Yin/Restorative practice will be designed to tap into your inner emotions through imageries and affirmations. The practice helps you to free yourself from everyday stress. Release what is stuck in your heart and let go of your daily blockages you feel inside. And of course, prepare yourself for a good night's sleep. The day finishes with evening meditation and reflection. We believe reflection is a great source of self-growth. Writing in your journal allows you to remember your experience and transformation during the retreat. It becomes a gift for you as a memory when you return home.If attending a Yoga retreat is one of your dreams, this is the time to dive into this amazing experience. Save your spot today!